VPN, the Virtual Private Network, is increasingly used by digital citizens. Those digital citizens, travelers or businessmen, require constant communications with their families, colleagues or social media networks when they are on the road, outside their homes and countries. There are many public hotspots or internet connections available along the way. However, they are aware of the growing risk of security and privacy.
Being a digital citizen, whenever on a business trip or on a holiday trip, I require a VPN service. Recently I subscribed to Ivacy services and discovered that the product has many top lines features.
Secure messaging
The public WiFi, especially free public WiFi can attract hackers. When you log in to your bank accounts, email account or buying things online, your personal credentials transferred over the airwaves might not be encrypted. Or, when you use Voice Over IP services, the hackers can easily obtain such private information and use for their criminal actions. There could be a lot of computer viruses and jargons to hijack your PC and make your life miserable.
Ivacy product provides 256-bit Data Encryption which makes it almost impossible for hackers to steal your data or log your activities.
Take control over your privacy
It is necessary to hide your internet activity from a public internet service provider (ISP). Usually, an ISP has complete access to your internet browsing history.
With the help of a great VPN service like Ivacy, you can avert this kind of surveillance and get the benefits of anonymity in your daily life. Ivacy believes in complete privacy. So, no Browsing Logs are kept. And, the secure VPN network of Ivacy makes you anonymous by masking your IP address and giving you ultimate privacy and internet freedom.
One account for multiple devices
You don't need one account for each device. You can connect five different devices simultaneously with only one Ivacy account. Surf more, do more and utilize great features of Ivacy on five devices simultaneously. I use one account for my mobile phone as well as my laptop.
Get around with the Geo-Blocking
In some countries, certain international websites are Geo-Blocked for domestic users. These can include many popular sites such as Google, Facebook, Pinterest and so on. If you are regularly using Google, Facebook, etc. then you need a VPN to access those sites to continue your daily routine. I was once in an Asia country and couldn't use the social media platforms for about three weeks, and I felt like handicapped.
Ivacy prides itself on its strategic network of servers in 100+ locations. Get true internet freedom with 1000+ servers around the globe. With Ivacy you can exchange unlimited data over Ivacy's network without any restrictions.
Related post: 27 Essential Things to Know Before Visiting China
Online Entertainment
Some entertainment channels are only available in home countries. Due to their copyright agreements, some popular streaming services such as NetFlix cannot broadcast all their programs outside the United States. Ivacy services can provide the connections and let you watch your favorite TV-serials while you are in other countries. Ivacy VPN has the streaming function and lists many channels for you to choose.


Avoid location-based price targeting
Online shops could offer each website customer a different price. An online shop can identify customers locations through cookies, might charge buyers at different prices. An online shop has one website for each country or region, for example, amazon.de or amazon.fr. The same product might have different prices on different platforms. If you connect through a VPN, you can easily choose a platform with the lowest price. I use such a service to buy some special products such as music CDs. Sometimes the money I saved could cover several months of subscribe premium.
Ivacy offers Unlimited Server Switching function. You can switch between their servers as many times as you want.
Safety
Ivacy VPN service has the power to change the IP address of your computer.  It offers secure DNS add-on that lets you route your requests through Ivacy's DNS server to prevent any DNS leak. In fact, Ivacy has many other top lines of features. For example, Internet Kill Switch. Internet Kill Switch immediately shuts down all your online activities, if you somehow get disconnected from our secure VPN servers.
VPN services with affordable prices
Perhaps, you would argue that there are also free VPN available. But, instead of asking you for the payment, the providers may be harvesting your data and selling it as "marketing insights" to advertisers. So, you have no absolute control of your privacy and safety.
Why not spend a small amount of payment to get many benefits while safeguarding your privacy and safety? Ivacy offers its services starting from $3.33/month, based on one-year subscription. Plus, it also has 30 Days Money-Back Guarantee. It is also possible to just buy a one-month subscription at $9.95/month. Please check its website for the detail conditions.
You can choose various payment methods, such as PayPal, Credit Cards, AliPay, BitPay, PaymentWall.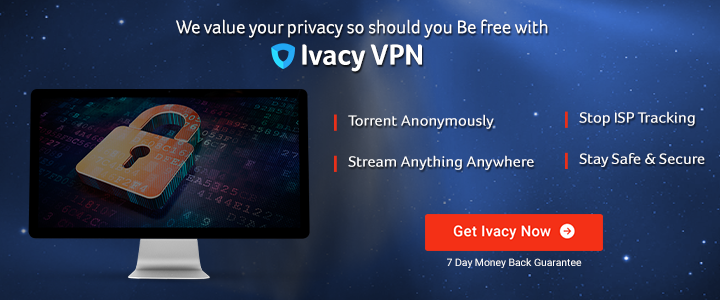 Excellent customer services
Ivacy VPN is available for many different devices, operating systems, and browsers. The online customer service is excellent. They have helped me with some issues related to my IPhone7.  When you go to their website, the Live Chat Support window will pop up and follow a question like "How can I help you?". They are very knowledgeable and fix my problem very quickly.
Easy installation
The installation is very easy with several clicks. If you are not familiar with VPN connection, never mind, the online user guides are also available for downloads. You can download the Apps from its website. For IOS version, you can download it from the App Store directly.